Charlotte has entered a golden age of craft brewing, and while this fermented frenzy may feel altogether new, it evokes a forgotten heritage that dates back to colonial days. Beginning with Captain James Jack, whose tavern was a Patriot haven burned by the British during the Revolution, local beer writer Daniel Hartis follows a frothy trail through the highs and lows of this sudsy story. Grab a pint and discover how Prohibition took hold of Charlotteans, then sample the spirit on tap today around the Queen City in today's blog-exclusive interview.
Q: How long have you been researching Charlotte beer history and did anything in particular inspire you? When did you first take a serious interest in craft beer?
I've been writing about Charlotte's beer scene at Charlottebeer.com since January 2011. In the two years since, I've had the pleasure of covering hundreds of beer events and writing pieces any time a new brewery, bottle shop or bar have come to town (and many have in that time). That being said, I knew very little of Charlotte's brewing heritage prior to the city's second renaissance, marked by the Olde Mecklenburg Brewery and Four Friends Brewing coming to town.
Though I'm a native Charlottean, I didn't really start immersing myself in Charlotte's beer scene until 2008, the year I returned to the city after graduating at the University of North Carolina–Asheville. While writing for the university's paper, I was asked to cover the microbreweries of Asheville. I was hooked after my first sip of Highland Oatmeal Porter. When I returned to Charlotte, I made it a point to seek out locally brewed beer and craft beer events. The site came about as an extension of my own passion.
Q:  What makes Charlotte's beer history an important part of understanding the bigger historical picture of an era and region? What kind of gap are you filling for history lovers with your new book?
As I quickly found out during my initial research for the book, there is very little information available on Charlotte's past breweries. At the very least, I thought it would have been easier to find information about the breweries that were here in the 1990s, but it really was a grueling process. Fortunately I was able to track down several former brewers, owners and employees—without whom I fear these stories might have been lost forever. Pre- and post-Prohibition information was equally difficult to find, though I owe a huge debt of gratitude to the librarians of the Charlotte-Mecklenburg Library's Robinson-Spangler Carolina Room.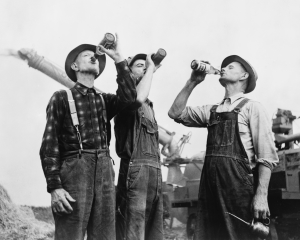 I've been drinking craft beer in Charlotte for several years, but until I wrote this book I had only a fleeting knowledge of our city's history. To be honest, when I was approached by The History Press, I wondered if there was enough subject matter to fill a book. I know now that there is, and I'm so appreciative for the chance to speak with the veterans of Charlotte's beer scene. The craft beer industry is currently experiencing unprecedented growth, both here in Charlotte and nationwide—but we can't allow this magnificent present to overshadow craft beer's storied past.
Q: Who was Charlotte's most famous tavern keeper (i.e. the Paul Revere of the South) and what role did he play?
Captain James Jack delivered the Mecklenburg Declaration of Independence to Philadelphia in 1775, a year before the nation penned its own declaration. For this reason, he is sometimes referred to as "the Paul Revere of the South." This act was treasonous, and should he have been caught with the documents, Captain James Jack would likely have been hanged by the British.
General Lord Cornwallis and his troops burned down the tavern where Captain James Jack and his father worked and lived, and little information remains about the tavern or the drinks served therein. Judging by other taverns in the area at the time, though, it's almost a certainty that Captain James Jack served beer of some kind. We don't know exactly what kind of beer that was, but we do know that one of Charlotte's most important historical events was undertaken by a tavern keeper. I write more about colonial taverns and the beers they served in the book.
Q: Can you compare the pre-Prohibition scene with the post-Prohibition scene in Charlotte?
Prior to Prohibition, Charlotte was home to a variety of saloons, beer gardens and a large bottling plant and distribution center for the Robert Portner Brewing Company, headquartered in Alexandria, Virginia. This brewery was one of the largest in the region at the time, and it had several bottling plants in the Southeast, usually in close proximity to railroads. Unfortunately, most of these establishments would eventually be closed when Prohibition went into effect in Mecklenburg County on January 1, 1905—fifteen years before the Eighteenth Amendment mandated national Prohibition. It was a long time coming for several temperance societies and anti-saloon leagues, which had campaigned for Prohibition in Charlotte since the mid-1800s.
The Robert Portner Brewing Company was able to survive for a few years during Prohibition by brewing "near beers," all of which were under 2 percent alcohol by volume. They even bottled Mayfield's Celery-Cola, which the Pure Food and Drug Administration in 1910 prosecuted for having unhealthful amounts of cocaine and caffeine.
This sentiment was gaining ground across the nation; Mecklenburg County was just an early adopter. Just as the county was early to institute Prohibition, so too was it late to repeal it. National prohibition ended in 1933, when states and counties were given the local option to decide if they wanted to maintain Prohibition. Mecklenburg County remained dry until 1947, though.
"They even bottled Mayfield's Celery-Cola, which the Pure Food and Drug Administration in 1910 prosecuted for having unhealthful amounts of cocaine and caffeine."
The county was dry, but that didn't stop the Atlantic Ice and Coal Company—originally based out of Atlanta—from opening up a Charlotte brewery in 1936. The large national breweries prospered after prohibition, while the small regional breweries had a harder time. There were few breweries in the South, and the Atlantic Ice and Coal Company was noteworthy in its ability to distribute to most of the region.
Though it was a large regional brewery—the largest in the South at one time—competition from the big breweries eventually forced all of Atlantic's breweries to close down. The Charlotte location had the distinction of being the last one standing. In 1955, it was responsible for all of the company's production. Unfortunately, it closed its doors the very next year.
Q: How did Temperance take shape in Charlotte's history?
In the early nineteenth century, Temperance societies were springing up in cities all over the nation, and Charlotte was no exception. The earliest temperance society in Charlotte was formed in 1820 and lasted until 1836; in 1842, the Washington Temperance Society of Mecklenburg County was formed with an initial membership of 145 people. The leading voice for prohibition, though, came when the Anti-Saloon League was formed as a national organization in 1895. In 1904, the league published "A Call to the United States: A Second Mecklenburg Declaration of Independence July 5th, 1904."
That same year, an election allowed Mecklenburgers to choose between a local dispensary or Prohibition, and the latter was chosen by a majority of 485. Prohibition went into effect in Charlotte on January 1, 1905, fifteen years before the Eighteenth Amendment mandated national Prohibition.
Q: Which was your favorite character to write about and why? Were there any standout research moments or surprises along the way?
I think the people I most enjoyed writing about—and that I wish I could have even written more on—were the members of the Brew Pub Poets Society, a group of scribes that would meet at Dilworth Brewing Company in the early '90s to write and recite poems. Sometimes it was about beer, and sometimes it was not—but from all accounts the group was composed of some of Charlotte's best and brightest. The first invitations to join this society went out to writers, actors, producers and TV and radio personalities. That was twenty years ago, but I'm sure many current Charlotteans recognize some of the society's members, like weather anchor Larry Sprinkle or Observer writers Lawrence Toppman and Tom Sorensen.
The Brew Pub Poets Society invitations were the brainchild of co-founder Jack Dillard, a copywriter who had been tasked with doing some marketing for the brewery. I met Jack at—where else?—a local bar where he placed in front of me notebooks and folders filled with old photos and poems. Jack and his fellow Brew Pub Poets appealed to both the marketer and beer lover in me, because this was marketing done right. It was about creating a genuine experience that was about far more than just beer. The Brew Pub Poets Society first met more than two decades ago, and Jack still keeps in touch with many of the members to this day.
Q: How the Pop the Cap legislation help catalyze Charlotte's brewing scene? How do you contribute to community efforts to help spread awareness and continue the brewvival?
More than anything, Pop the Cap showed that Charlotteans and others across the state were thirsty—please forgive the pun—for a variety of new beers. Before Pop the Cap, you couldn't buy beer with an alcohol content greater than 6 percent. As you can imagine, this limited not just specific beers over that percentage, but entire beer styles! When was the last time you saw a doppelbock, barleywine, imperial stout or double IPA under 6 percent? Or just about any Belgian beer, for that matter?
The Pop the Cap campaign was spearheaded by Sean Wilson. Years later, Sean would found Durham's Fullsteam Brewery, but not before throwing himself into his work as a co-founder of Pop the Cap and a general ambassador for North Carolina's beer scene. In Charlotte, the Brixx Pizza at Foxcroft held a fundraiser event where a twenty-dollar donation got you tastes of beers that were not available in North Carolina at the time. The only breweries in town at that time were Rock Bottom and Hops, so there wasn't a local brewery that could help fight on Pop the Cap's behalf.
Of course, many breweries have come to Charlotte in recent years. Imagine what current Charlotte-brewed beers we would be without if these breweries were limited to brewing beers no greater than 6 percent ABV? Fortunately, these breweries didn't have to resort to that. Governor Mike Easley signed House Bill 392 into law on August 13, 2005—thereby raising the cap from 6 percent to 15 percent ABV.
Q: Your last few chapters cover homebrewing and the '90's. Summarize the importance of these aspects to the burgeoning craft beer scene.
Our local homebrew club, the Carolina BrewMasters, has its origins in the early 1980s, a time when craft breweries were just starting to gain a foothold across the nation. Charlotte's first microbrewery was still many years off, and few were the Charlotte bars or stores that carried craft beer. If you wanted to drink a variety of beer styles, you likely had to brew it yourself. The Carolina BrewMasters are also credited with organizing Charlotte Oktoberfest, which has been one of Charlotte's best beer festivals for the last fifteen years.
Q: Baltimore's first manufacturing industry was a brewery, and in Houston, quirky names like "Sympathy for the Lager" and "Rodeo Clown" appeal to local crowds. How important are traditions, place and loyalty in beer marketing?
Craft breweries pride themselves on being a part of their communities, and as such it's become commonplace for breweries to name their beers after the area or its history. Dilworth Brewing, Charlotte's first microbrewery, had beers with names like Albemarle Ale and Reed's Golden Pilsner, the latter a nod to Reed Gold Mine in Concord, home of the first gold discovery in the United States.
The Charlotte Rock Bottom's lineup includes Prospector Pilsner, which also harkens back to Charlotte's gold rush past. Their Stingin' Brits IPA was named after General Cornwallis reportedly called Charlotte "a hornet's nest of rebellion" after leaving the city in 1780. The Battle of Charlotte was fought at the Mecklenburg County Courthouse, just three blocks away from Rock Bottom, where now sits the Bank of America building.
"Their Stingin' Brits IPA was named after General Cornwallis reportedly called Charlotte 'a hornet's nest of rebellion' after leaving the city in 1780."
The Mill Bakery, Eatery and Bakery played off of the hornet theme as well with its Hornet Tail Ale, which won two medals at the Great American Beer Festival. Lake Norman residents were undoubtedly familiar with Lake Norman Brewing Company's flagship beer, Duke's Plutonium Ale. This manmade lake was created by Duke Energy and named after former Duke Power president Norman Cocke. The light rail brings many a drinker to Triple C Brewing, and so it's only appropriate that one of its five core beers be called Light Rail Pale Ale. And anyone who's spent any time in Charlotte traffic knows that Four Friends Brewing's i77 IPA takes its name from the interstate that runs through the city.
These names and many more show how important a local product and sense of place is not just for the breweries, but also for the people who enjoy their beers.
Q: If you could pick three local beers to drink right now, what would they be?
That's an incredibly tough question. People often ask what my favorite beer in Charlotte is, and I always tell them the same: that the best thing about Charlotte's beer scene is its diversity. The Olde Mecklenburg Brewery brews German-style beers in strict adherence to the Bavarian Purity Law; Ass Clown Brewing, on the other hand, brews with hundreds of different ingredients, including sea salt, wasabi and whole sticks of butter. Each of Charlotte's breweries has its own unique approach and philosophy, and there's a place for all of them.
So I don't completely dodge the question, I'll throw out two new Charlotte beers that I look forward to trying soon, and one that was brewed for a great cause. I haven't yet had Triple C Brewing's new Cajun Stout, which was brewed with cayenne peppers. While I've enjoyed the Olde Mecklenburg Brewery's Früh Bock, I'm always eager to try this spring seasonal, which will be released on March 1 this year. And lastly, I'm also happy to enjoy a pint of NoDa Brewing's Hope's Stout—it's a delicious beer in its own right, made better by the fact it was brewed in honor of Hope Stout, a twelve-year-old girl who inspired so many before losing her battle with cancer many years ago.
Q: What is your favorite title on your bookshelf and/or what are you reading? Do certain books call for certain beers?
I have a fascination—some might say an obsession—with smoked beers. Right now I'm reading Smoked Beers: History, Brewing Techniques, Recipes by Ray Daniels and Geoff Larson. Outside of beer writing (whether print or online), I mostly read horror novels. I'm a big Stephen King fan and recently really enjoyed Under the Dome and 11/22/63.
Q: What's your most memorable craft beer experience?
That's almost as tough as asking me my favorite beer—there are so many. Looking back on it, I would say that writing the book was my most memorable craft beer experience. I knew little of Charlotte's beer history prior to writing this, so it was great to meet and speak with those who have been into craft beer decades longer than myself. I made a lot of new friends and also got to know old friends all the better, all while learning a great deal about our city and its beer scene. It was a true pleasure.
Q: What's next?
After the whirlwind book tour and a run on the New York Times Bestsellers List, you mean? I'll continue writing about Charlotte's beer scene over at Charlottebeer.com, where I have plans for a lot of new features and content that will make it even easier for Charlotte visitors and residents alike to find craft beer around town. Writing about Charlotte's beer scene is like trying to shoot a moving target. It seems every month a new bar, bottle shop or brewery is coming to town, and I just feel privileged to be able to write about such great beer and the people behind it.
"Writing about Charlotte's beer scene is like trying to shoot a moving target."
There is also a proposed microbrewery text amendment that could allow breweries to exist outside of the industrial areas where they are currently confined. I believe that would be a boon not just to the city's beer scene, but to its overall economical and cultural climate as well. I hope to play a part in seeing that to fruition.
A Charlotte native, Daniel Hartis did not start drinking craft beer until he was asked to write about Asheville's breweries for the Blue Banner, his school paper at the University of North Carolina–Asheville. He returned to Charlotte in 2008 and continued drinking beer, though he didn't start writing about it again until January 2011, when he started www.charlottebeer.com. On that site, Daniel writes about Charlotte's beer events and brewery news. When he is not drinking beer or writing about it, Daniel enjoys spending time with his wife, Airen, and their two children. You may purchase his new book at www.historypress.net.